Welcome to the Orange Brand Site Since it first launched, our brand has remained relevant by developing new expertise and services. Much more than a telecommunications operator, we now play a role in sectors as broad as education, finance, cybersecurity, and connected devices, to help build a more responsible digital world. This site helps you find all the brand basics you need such as our identity guidelines and assets including images, videos, presentations, and logos to use in your communications. If you can't find what you're looking for, please feel free to contact us using the form at the bottom of the page. If you work closely with the Orange brand, why not register? That way you'll be able to access even more content!
Orange brand basics
Logo
Always use original artwork.
Eco-branding
White for print. Dark for digital.
Personality
To make our brand coherent and unique.
Brand voice
Simplify to the essential, always write with a smile.
Naming
Generic, descriptive or hero, respecting spelling rules.
Color
Min. 80% core color; min. 30% orange; max. 20% supporting color.
Typography
Bold, direct, essential.
Photography
Natural and within listening distance.
Illustration
Linked to our personality, always flat, bold and simple, never dull.
Mix
An interaction between the photo and the illustration to highlight the brand role.
Film and animation
Personalized and emotional demonstration.
Music and sound
One sonic logo and a coherent musical territory.
Icons and stickers
Black, white or orange; always use original artwork.
Digital
Download guidance, tools and assets at design.orange.com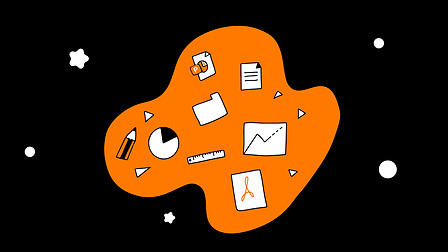 Tools and templates - PowerPoint templates - EN
Zip containing PowerPoint (PPT) presentation templates plus a user guide, best practice examples, tools and maps. Includes templates in English.
Group presentation - Orange 2023
Card image
File information
Date: 13/09/23
Type: Document
Size: 136,5 Mo
Format: PDF
Corporate presentation
Presentation Orange Group 2023 - PDF - EN
Link to page